DINING
Enjoy Local & International fine dining in Doha
We offer two choices for dining venues, Marhaba restaurant is a vibrant and modern restaurant where the quality of food is matched by the venue's atmosphere, and Riviera café renowned for its panoramic view of the Corniche.
Marhaba Restaurant
Experience authentic Arabic Style Hospitality with a variety of delicious cuisines specially prepared by our international chefs. Indulge in appetizing wide selection breakfast, lunch or dinner buffet offered everyday. We offer both a local and international choice of food.

Our thematic brunch are a place to be in the city, don't miss our next brunch filled with culture, culinary delicacies, and amazing atmosphere. Regardless of the kind of dining experience you're looking for - make Marhaba Restaurant your first choice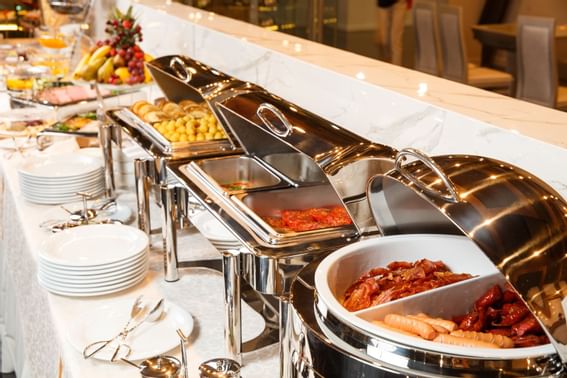 Breakfast Buffet
We serve breakfast buffet daily at our Marhaba restraurant . Delight in amazing food with a great atmoshere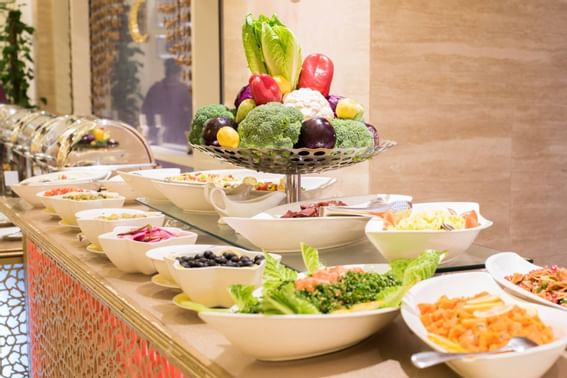 Lunch Buffet
Executive Lunch Buffet at Marhaba Restaurant is a great choice for a social gatherings and great dine in experience.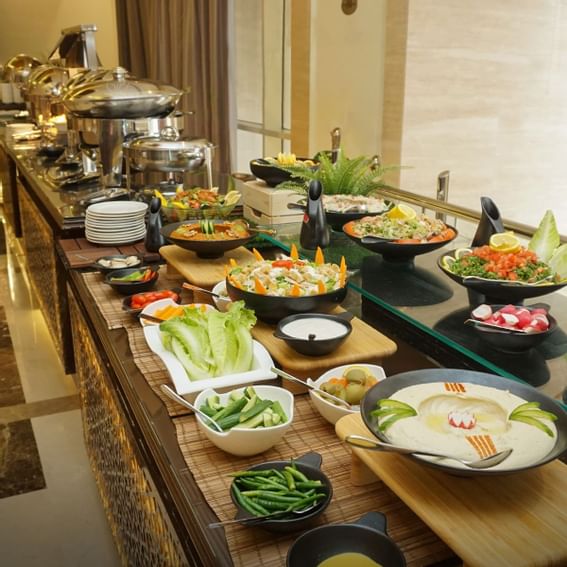 Dinner Buffet
Delight in a delicious dinner buffet at Marhaba restaurant. We offer a wide selection of food daily
Friday Brunch
We have a great family fun brunch, a wide selection of delicious dishes, entrées, salads, and desserts to choose from our Family Brunch, we invite you to experience our Weekend Brunch.
Riviera Café
Riviera Café is open 24hours and has become a favorite dining spot for locals and tourists in Qatar.
This is all due to our use of seasonal, quality dishes, carefully prepared to the highest standard. We offer both the option for a formal A-la-carte dining experience or light bite café. Whatever you're craving, we have a variety of options to satisfy your appetite.
Having a calm and discrete ambience, our café is an ideal place to sit and relax with stunning views of West Bay and Corniche, admiring the sunset over the glittering Gulf Sea as you sip on our special signature mocktails.